Mateo Sheedy Elementary, our first Rocketship school, opened in 2007 in downtown San Jose, a city with a widening achievement gap. Just two years later, the community banded together to form SJ2020, a coalition of city officials, school districts, charter networks, businesses and non-profit organizations working to eliminate the achievement gap in our community by 2020. While much work remains, San Jose is making major progress fueled by nine Rocketship schools, serving over 5,000 students in 2014-15.
Our families have also advocated for excellent charter middle school options, adding approximately 5,000 more seats. Together, we're building a movement in San Jose to increase choice and quality. In fact, a 2015 report from Stanford University's Center for Research on Education Outcomes found that San Jose was one of two cities that provided positive gains for public charter school students in math and reading and met or exceeded state-wide average achievement across all socioeconomic groups.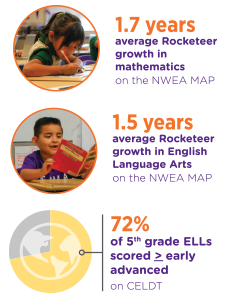 A recent report by Innovate Public Schools recognized three Rocketship campuses — Mateo Sheedy, Brilliant Minds and Mosaic — for beating the odds for low-income students.
Rocketship Bay Area
at a glance